What is PVD Coating?
Physical vapor deposition (PVD) coating refers to various coating techniques in which thin layers are created on a substrate using physical techniques. Each technology has a unique set of benefits.
PVD coating starts by depositing films with precise stoichiometries to achieve color PVD finishes (ratio of certain elements). Typically, a base metal is used to create a very thin ceramic composite by reacting it with a reactive gas. For instance, when titanium coatings are formed, they are typically silver or gray, but when nitrogen is added to create a titanium nitride (TiN) compound, the result is a brilliant gold hue. In addition, you can produce captivating rose gold hues by combining titanium with a tiny quantity of carbon to form titanium carbonitride (TiCN).
Why Can A  Substance Be Coated With Different Colors?
The coating colors are influenced by the film thickness, which is dominated by optical interference at various wavelengths. Therefore, when you look at them, the colors are different, especially if you are working with thicknesses of less than one micron. If your TiN coating only nucleates well on one substrate, there will undoubtedly be more growth and various thicknesses, and the color difference should not be a surprise.
Generally, the quality of your films, particularly their hues, depends greatly on the thickness of your deposited films and how they interact with your substrates.
PVD Coating Colors
It is workable to combine a colored appearance with exceptional coating qualities with PVD coatings. Numerous potential applications are made available by the process's wide color spectrum, great hardness, and chemical resistance, low thickness, accurate reproduction of the original surface condition, biocompatibility, and environmental friendliness.
For instance, The Titanore PVD coating is an exact match to the existing standards since it combines a gold alloy with a TiN or ZrN coating.
Below are some of the element combinations needed to produce particular PVD coating colors.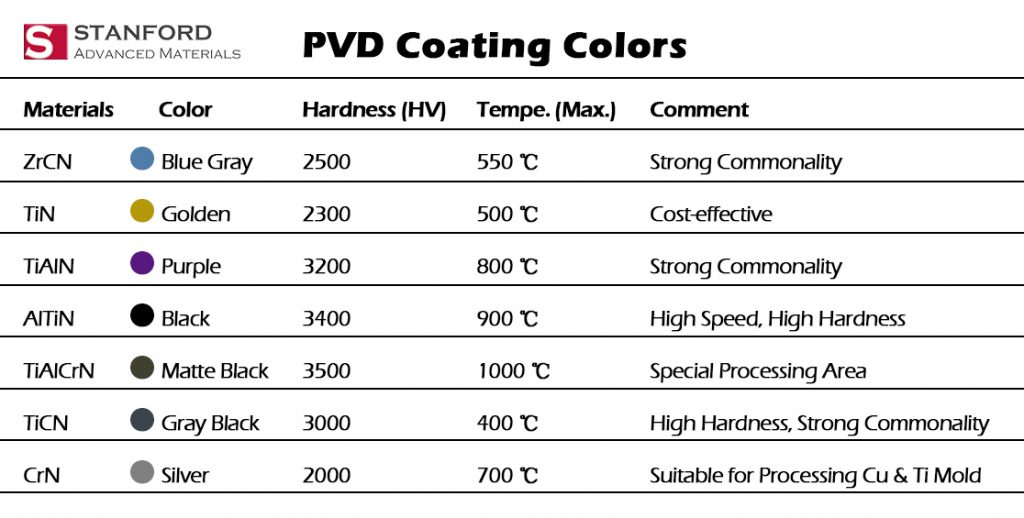 Other colors that are not mentioned are listed below.
| | | | |
| --- | --- | --- | --- |
| Red | Brass | Copper | Multicolor |
| Blue | Green | Graphite | Champagne |
| Gold | Purple | Chocolate | Silver |
| Black | Bronze | Rose Gold | More Custom Colors |
How Long Can These Colors Last?
Thin-film decorative coatings are strong and offer outstanding wear and corrosion resistance. There is also no fading or dulling. The majority of decorative films have a film thickness of fewer than 0.5 m since their primary coating function is to produce ornamental finishes rather than tribological ones. They lack the same tribological properties as the much thicker films made for wear applications.
Different Surface Finishes of PVD Coating
Surface finish refers to how the product's final surface will feel and look after coating, including whether it will be smooth or rough, shiny or dull, etc.
The final color is unrelated to the surface finish. The color may become duller or more brilliant, while the coating's hue remains unchanged. The following are the main categories of PVD surface finishes: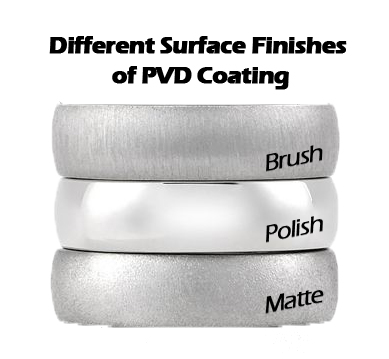 Brushed PVD Finish
Brushed finishes for surfaces PVD coatings contain lines. When it comes to a hairline pattern, the lines could be straight. Additionally, they may have uneven vibrations and brush patterns.
Because they already have lines, brushed finishes conceal flaws even more than matte surfaces because scratches will blend in with the lines.
Polished PVD Finish
A smooth, shining, mirror-like surface of PVD coatings is referred to as a polished PVD finish. Jewelry, watches, functional components, ornamental items, and other items are frequently coated with PVD using a polished finish.
Its glamorous and modern surface gives a tidy and clean appearance. Polished surfaces offer very good corrosion resistance qualities and are frequently utilized to extend product lifespan, as they do not absorb dust or moisture.
Matte PVD Finish
Matte surfaces give off the impression of having a dull coating with a more natural look. Matte finishes last longer than polished finishes, which are more likely to show minute scratches since they are dull and cover imperfections.
Conclusion
The benefits of PVD coatings are numerous. Your product will be more durable and valuable if it has PVD coating, as it can offer lifetime protection and save you the trouble of routine cleaning.
Stanford Advanced Materials (SAM) Corporation is a global supplier of various PVD coating materials such as metals, alloys, oxides, ceramics, etc. We provide sputtering targets & evaporation materials for a wide range of applications from ferromagnetic, complex oxides, and semiconducting films.