If you've ever heard of thin film coatings, then you might know about Sputtering! This involves materials being ejected from a source called a "target" onto a "substrate" like a silicon wafer.
By injecting a reactive gas (usually oxygen or nitrogen) into the plasma, which is normally created by an inert gas like argon (the most common), xenon, or krypton, compounds are deposited in a process called Reactive Sputtering.
In this procedure, the plasma "activates" the reactive gas, causing it to chemically react with the target material and become deposition-ready. The composition of the resulting film can be controlled by adjusting the proportions of inert and reactive gases. By reactive sputtering, oxides, nitrides, carbides, and combinations of all three are frequently produced.
What is Reactive Sputtering?
Reactive sputtering is a technique used to produce thin film coatings with precisely regulated stoichiometry and structure for Physical vapor deposition (PVD). A sample(target) made of any desirable pure material is used in standard sputtering, along with an inert gas — typically argon. The resulting plasma either leaves the target material or gets deposited in the exact form in which it is used, that is if the substance is a single, pure chemical element.
However, it is also possible to use a non-inert gas in addition to or in place of the inert gas which is more frequently used. Examples of non-inert gases that could be used include oxygen and nitrogen. When this is done, a molecular compound that eventually transforms into the deposited film can be produced when the ionized non-inert gas chemically reacts with the target material vapor cloud. A silicon target, for instance, can create a silicon oxide film when reactively sputtered with oxygen gas, or a silicon nitride film when reactively sputtered with nitrogen gas.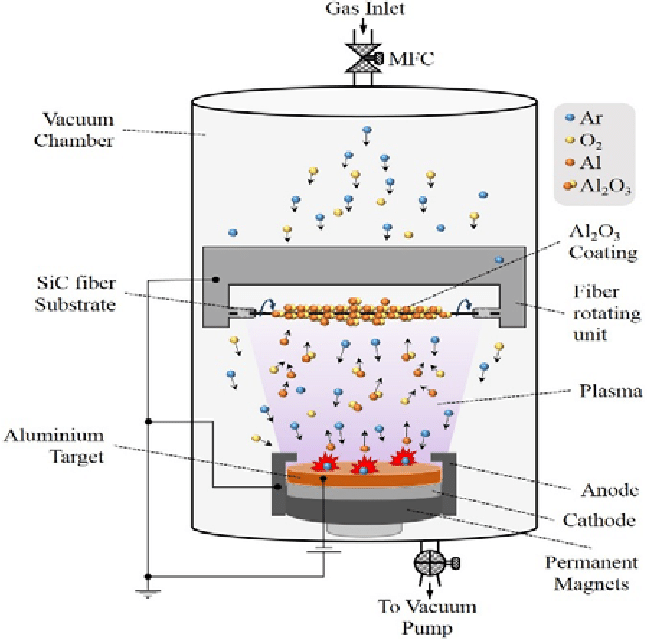 In this process, various aspects must be taken into consideration. The distribution of the reactive gas inside the chamber is one crucial factor. The reactive gas is chemically consumed to give the desired product compound, whilst the inert gas atoms can be reused, that is, they can be ionized, neutralized, and ionized again in the plasma. Often than not, it is important to include some specific physical mechanism of pumping this gas somewhat uniformly over the entire plasma around the cathode to produce a properly reacting film. A "gas ring" encircling the cathode is the conventional method for accomplishing this. This would be a tube or channel with numerous tiny holes positioned along it, allowing a little amount of gas to leak into the plasma at various points around the sample's perimeter.
Similar to how inert gas sputters material away from the sample, reactive gas also sputters materials away because it ionizes and is driven into the sample by the electrical field. Reactive gas alone can be used for this process. Some users even have a setup that operates only on pure reactive gas, with no argon. However, it is more typical to utilize a mixture of inert and reactive gas, and one of the factors that will affect the stoichiometry and properties of the molecular film that is produced is the partial pressure of reactive gas.
Reactive Sputtering Examples
The following are commonly sputtered compounds with their respective initial reactive gases
| | |
| --- | --- |
| Oxides (oxygen) | Al2O3, In2O3, SnO2, SiO2, Ta2O5. |
| Nitrides (nitrogen, ammonia) | TaN, TiN, AlN, Si3N4, CNx |
| Carbides (methane, acetylene, propane) | TiC, WC, SiC. |
| Sulfides (H2S) | CdS, CuS, ZnS. |
| Oxycarbides and oxynitrides | Ti, Ta, Al, and Si. |
Types of Reactive Gases and Their Uses
Oxygen (O2):  Is used for the deposition of oxide films e.g. Al2O3, SiO2, TiO2, HfO2, ZrO2, Nb2O5, AZO, ITO
Nitrogen (N2): This aids the deposition of nitride films e.g. TiN, ZrN, CrN, AlN, Si3N4, AlCrN, TiAlN
Carbon dioxide (CO2): Brings about the deposition of oxide coatings
Acetylene (C2H2): One of the many gases that can aid the deposition of metal-DLC, hydrogenated carbide, carbo-nitride films
Methane (CH4): Could also be used for the deposition of metal-DLC, hydrogenated carbide, and carbo-nitride films as in acetylene
Advantages of Reactive Sputtering
Reactive sputtering occurs in a vacuum chamber with a reactive gas-based low-pressure atmosphere, unlike other methods of sputtering.
The chamber can be filled with gas, such as argon, oxygen, or nitrogen, utilizing special pumps on the machine and would remove the regular atmosphere, which is composed of carbon, oxygen, and nitrogen among other trace elements.
In the case of reactive sputtering, the reactive gas has a positive charge. It is one of the easiest methods of making thin films from compounds. Compounds like aluminum oxide or titanium nitride (TiN) can be used to create thin films (Al2O3) in a reactive Sputtering procedure.
Application of Reactive Sputtering
Reactive Sputtering is popularly used in the resistance and thermal conductivity of a metallic nanofilm.
Employing the sputtering process in the deposition of semiconductors, resistors, and dielectrics has found diverse use in commercial processes.
One of the two most popular methods for creating thin-film resistors is reactive tantalum nitride sputtering.
Conclusion
So far, there are only two types of reactive sputtering: HF and DC. Reactive sputtering, which is essentially the reaction between atoms sputtered from a metal target and reactive gas molecules diffused from a discharge gas on the substrate to produce compound thin films, has proven to be one of the most useful ways to produce thin film coatings for commercial purposes. If you want to know more about thin film coating, we would like to advise you to visit Stanford Advanced Materials (SAM) for more information.